Prievidza
The oficial site of the Prievidza city
www.Prievidza.sk
SYMBOLIC KEY OF THE CITY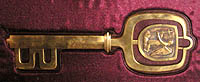 This is an artistically crafted metal key measuring 27 centimeters. On one side of its handle is a relief of the kneeling angel with a cross in its hand, while the other side has the words "MESTO PRIEVIDZA" (City of Prievidza). This symbol is used at especially important welcoming ceremonies for official visitors to the city.
Stránky prevádzkuje
Mesto Prievidza
Námestie slobody č. 14, 971 01 PRIEVIDZA
Tel.:.+421/0/46/51 79 110 | Fax: +421/0/46/542 34 74
Webmaster
Created by © 2008 WebCreative.info
All rights reserved.