Enternainment and Free time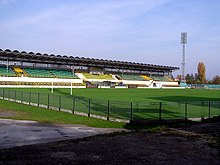 Football Stadium
Address:
Športová ul. 37, Prievidza
Contacts:
+421 46 542 72 88
Managed by:
UNIPA, s.r.o.
The HFK Prievidza football club (Hornonitriansky Futbalový Klub) and the BODNAR women's football team both compete in this stadium.
HFK Prievidza has seven youth squads at HFK that take in the first to fifth year at elementary school and eight scholastic and youth teams, all numbering approx. 300 members, as well as three senior teams (approx. 100 members):
A Seniors play in the 2nd Division
Youth (older and younger levels) play in the 1st Youth Division
Older and younger players also play in the 1st Division
Other squads play in upper-level regional competitions
Within HFK Prievdiza, four youth squads compete in the Talented Youth Division (UTM), while five scholastic leagues compete in the Sport Class (ŠT) Division.
There are two natural-grass pitches located on the grounds of the Prievidza City Football Stadium. Besides league competitions, the senior and youth teams also play in SLOVAKIA CUP international matches and other qualifying meets organized by the Slovak Football Federation (SFZ).