Enternainment and Free time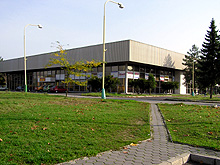 Sport Hall
Address:
Ul. olympionikov 2, Prievidza
Contacts:
+421 46 543 91 81, 543 07 93, 543 91 79
Fax:
543 07 63
E-mail:
sportovahala@stonline.sk
Managed by:
Hornonitrianske Bane Prievidza, a.s. (Upper Nitra Mines) Mr. Mečiar
Sports:
the Sport Hall has three playing areas (three gymnasiums).
The main playing area is a combined court for basketball, volleyball, team handball and indoor football, measuring 45 x 25 meters and 11 meters high. It is equipped with a suspended spring board floor. The bleachers seat 1,900. The hall meets standards for international meets.
The wrestling room is furnished with two 12 x 12 meter wrestling mats for wrestling, karate, judo and rhythmic exercise. It can also be used during short periods for sales fairs and exhibition markets. This gymnasium is also used regularly for aerobics and conditioning, supervised by trained instructresses, Mondays thru Fridays, usually 7.30 – 8.30 PM.
The 22 x 15 meter gymnastics room is furnished with special gymnastic apparatuses, including a spring board floor for floor exercises. It is used for both artistic and rhythmic gymnastics.
Fitness room – for performance athletes and the general public.
A snack bar serves refreshments to visitors.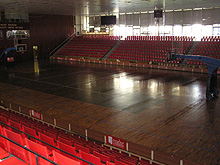 Sauna – open daily 11.00 AM – 8.30 PM – Mondays, Wednesdays and Fridays for men, Tuesdays and Thursdays for women.
Hand massage – partial and full
Hydro-massage – classic, pearl and whirlpool
In addition to rehabilitative services, supplementary services, such as blood-pressure measuring and electrotherapy, are also offered along with diadynamic, ultrasound, bio-lamp and myostimulating equipment for removing layers of fat.
Services related to physical fitness (inclusive of VAT)
Sauna - adults
70 Sk per person
Sauna – children under 10
15 Sk per person
Pearl massage
10 min.
40 Sk per person
Classic massage
10 min.
50 Sk per person
Hand massage - partial
15 min.
90 Sk per person
Hand massage - total
25 min.
130 Sk per person
Large whirlpool – for legs
10 min.
30 Sk per person
Small whirlpool – for arms
10 min.
10 Sk per person
Myostimulator
50 min.
80 Sk per person
Rent space (exclusive of VAT)
Main gymnasium – recreational sports
1 hour
600 Sk
Gymnasium rental for cultural events
1 hour
1800 Sk
Rent for sporting events under regular lighting
1 hour
700 Sk